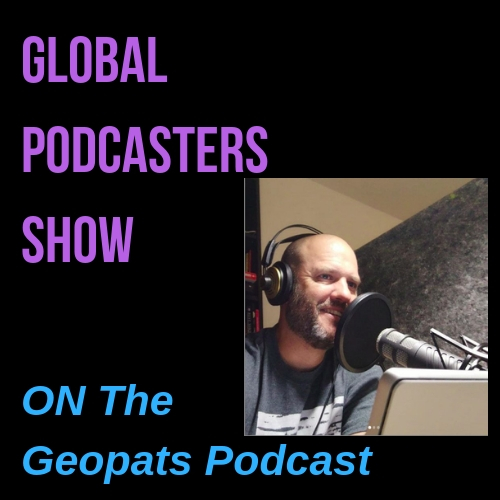 "...they say that it gives them a perspective of Germany from outsiders eyes. That was a surprise for me." Shaun, Host of Expat Life Germany
Expat Life Germany is one of those podcasts that you listen to as you are doing something else (for me I was cleaning the apartment) and then find yourself stopping, grabbing a drink and sitting down to listen. Why? Because the authentic, thinky conversations that Host Shaun has with his guests are so calm and intriguing that you want to give them your full attention. This is exactly why I had to reach out to Shaun and ask him to join us on this new Expat Podcasters show.
In this episode we talk about why he started the podcast, how he manages his pod-life balance, creating and reshaping the content in the early stages of the podcast and how his location has influenced the podcast. We also dig into his growing podcasting community in Germany, where podcasting was slow to get started but is gaining some real momentum recently. Shaun is originally from South Africa but moved to Germany 12 years ago. You can listen to more of his expat story on a recent episode of Nicole's The Expat Cast Podcast, https://theexpatcast.podbean.com/e/raising-a-son-with-special-needs-in-germany-with-shaun-of-expat-life-germany/
Shaun's  Info:
-Expat Life Germany Podcast: https://expatlifegermany.de/
-Instagram: https://www.instagram.com/expatlifegermany/
-Twitter: https://twitter.com/ExpatLifeDE
-Facebook Group: https://www.facebook.com/ExpatLifeGermany/
Links:
-Nicole's Expat Cast Podcast: https://theexpatcast.podbean.com
-Podstock: https://play.acast.com/s/americanafureuch/b9eb95fe-33c9-4ffb-9ce6-6ba5f40bd344
-Podcastnik: http://www.podcastnik.com/
Promos:
(10:56) The Bangkok Podcast: Greg: https://www.bangkokpodcast.com/
(11:30) The Expat Cast, Nicole: https://theexpatcast.podbean.com/
If you like this episode, feel free to 
My Podcast & Podcasting announcements: 
-A special thanks to Damon Castillo for letting us use this instrumental version of the song "Sometime Guy" from his "Mess of Me" album. All of his music, concert info and such can be found at https://www.damoncastillo.com/. You can hear the entire song,with lyrics, at the end of this episode. If you are lucky enough to live in or near central coast CA, you can check Damon and his band out. 
-The Geopats Podcast newsletter #9 is out now. Go to stephfuccio.com to check out the most recent newsletter AND to sign up to get future ones in your email inbox. 
-If listening to podcasts makes you think about making your own, I can help! You can get a free month of Podbean hosting service by using this promo code: https://www.podbean.com/virtualexpats . And if you are an expat, I am hosting a Beginning Expat Podcasters One Hour Workshop in October. Dates tbd soon so check stephfuccio.com for more info. If you don't want to record your voice but NEED a voice, I am  selling mine! Really, If you or anyone you know needs a voiceover talent, please contact me at https://www.voices.com/actors/stephfuccio.  What I am NOT charging for promo spots in the three interview shows on the Geopats Podcast, I am offering them for FREE to Content Creators that I like AND that fit into that particular episode's content. 
----------------------------------------------------------------------------------------------------
Like this episode? Please review us on Podchaser: https://www.podchaser.com/podcasts/geopats-706697?utm_source=Geopats%7C706697&utm_medium=badge&utm_content=TRCAP706697
-----------------------------------------------------------------------------------------------------
Geopats Podcast: 
Would love to hear from you! Twitter, Instagram, LinkedIn  & you can even leave a voice message on Speakpipe
Where to find the Geopats Podcast website, Apple Podcasts page, subscribe on : iOS , Android devices, RSS
Music courtesy of Damon Castillo,https://www.damoncastillo.com from the "Mess of Me" album
Check out all of our projects: https://stephfuccio.com/
This episode was created with:
-My mic: Samson Q2U
-Auphonic,free online leveling software
-Producer, Editor, & Host: Stephanie (Gmail: stephfuccio or WeChat: stephfuccio)
-Podbean hosting site: Get 1 month free, https://www.podbean.com/virtualexpats